Product description
Mysterideez NFT Drop #7
Our Mystery NFT Lots are a great way to get started collecting or to add to your NFT Collection. We currently only sell Wax Based NFTs. Our main focus is on Funko NFTs that offer chances to get Redeemable Funko Pops.
ABOUT DROP #7
Only 7 Lots Available!
INCLUDED: Complete Royalty Set (103 NFTS)
SERIES: NICKELODEON (Funko)
REDEEMABLE: By holding this Nickelodeon Royalty Set in your Droppp Account or Wax Wallet on or by 6/1/22 no later than 1pm CDT you will receive a Redemption Token to get a Limited Edition Physical Freddy Funko Pop.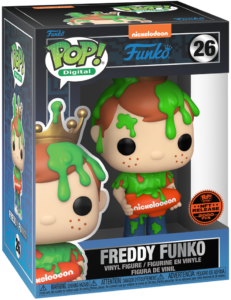 *EXACT VALUE FLUCTUATES WITH THE MARKET (WAX/ETHERIUM)