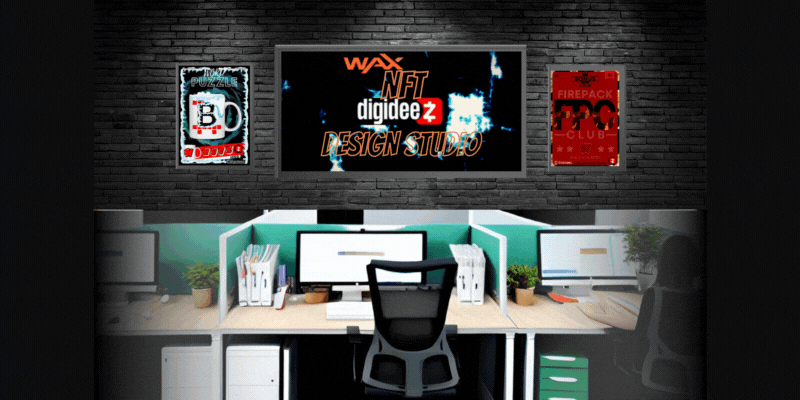 WE MAKE NFTS!
We are a WAX NFT Design Studio focusing on creating brands as well as helping build existing brands through Digital Collectibles.
NFT DESIGN
We create NFT Designs with Original Art made by AI, Graphic Designers, and a mix of both to capture some of the most unique designs in the industry.
TEMPLATE & PACK CREATION ON WAX (Optional)
We can optionally create WAX Templates and NFT Packs and set them up on Atomichub & Neftyblocks (which is part of the process to create packs and drops on the wax blockchain)
SETUP YOUR DROP (Optional)
We can optionally setup your DROP (including date, time, and qty available) on Neftyblocks.
MARKETING (Optional)
We can optionally do marketing services to promote your drop. Everything from Articles (including Press Releases), Images, Videos, and promotion on sites like: Blockdropz, Digideez, and social media.
OUR TEAM
Lane – Designer/Web Developer
Alisa – Designer/Content Writer
Dani – UGC/Social Media
Gibson – Drop Promoter
Angelia – Designer/Marketing
OUR TOOLS
PC, Mac, Android, and IOS
Various Design Methods: Hand Drawn, Digital Creations, and a Mix of AI with our own designs.
Design Programs: AI, Adobe Suite (Photoshop, Premiere), Canva and other Graphic Design Programs.
Atomichub, NeftyBlocks: For creating NFTS, Packs, and Drops.
HIT US UP WITH YOUR IDEA
Fill out the form below, with NO OBLIGATION, and we will get back to you with a rough outline of: Design, Timeline from NFT Collection Creation to Drop, Price, and Potential Redemption Options.