Product description
REDEMPTION COIN for 'Green Lantern Kyle Rayner' – Limited Edition Funko Pop.
Includes: Green Lantern Kyle Rayner NFT
This Redemption Coin is redeemable for a Limited Edition Green Lantern Kyle Rayner Funko Pop. To redeem you must put this Redemption Coin in your Droppp Account and Checkout by 10/2/22.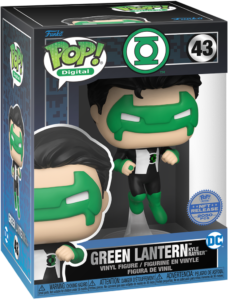 ABOUT THIS ROYALTY SET
NAME: Green Lantern (Redemption Coin + NFT)
RARITY: LEGENDARY
SERIES: DC (Funko)
VARIANT: ORIGINAL
MINT #: # WILL VARY
CARDID: 128
VALUE: *$78-$150
BONUS: **REDEEMABLE
*EXACT VALUE FLUCTUATES WITH THE MARKET (WAX/ETHERIUM)
**REDEEMABLE FOR A PHYSICAL LIMITED EDITION FUNKO POP!