Product description
Batman Justice Armor Legendary Redeemable NFT
REDEMABLE for a Limited Edition Physical Funko Pop.
Includes: 1 Batman Justice Armor NFT
This NFT is redeemable for a Limited Edition 'Batman Justice Armor' Funko Pop. To redeem you must put this NFT in your Droppp Account by 1/4/23. Funko/Droppp will then drop a Redemption Token in your account later that day. You will then have 30 days to checkout (for FREE) for your Limited Edition Funko Pop.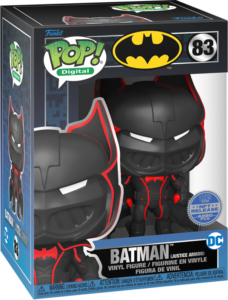 ABOUT THIS NFT
NAME: Batman Justice Armor (Redeemable NFT)
RARITY: LEGENDARY
SERIES: JASB Series 1 (Funko)
VARIANT: OG ANIMATION
MINT #: # WILL VARY
CARDID: 128
VALUE: *ESTIMATED VALUE: $52-$110
ESTIMATED PHYSICAL POP VALUE: $150-$200
*EXACT VALUE FLUCTUATES WITH THE MARKET (WAX/ETHERIUM & FUNKO POP)
**REDEEMABLE FOR A PHYSICAL LIMITED EDITION FUNKO POP!